Barclays PLC Raises Ferrexpo Plc (FXPO) Price Target to GBX 130
Ferrexpo Plc (LON:FXPO) had its price objective raised by equities researchers at Barclays PLC from GBX 50 ($0.63) to GBX 130 ($1.64) in a research note issued to investors on Friday. The firm currently has an "underweight" rating on the iron ore producer's stock. Barclays PLC's target price would indicate a potential downside of 11.86% from the company's current price.
Several other research firms have also weighed in on FXPO. JPMorgan Chase & Co. reiterated an "overweight" rating on shares of Ferrexpo Plc in a research note on Friday, April 7th. Credit Suisse Group AG upgraded shares of Ferrexpo Plc to a "neutral" rating and lifted their price objective for the company from GBX 120 ($1.51) to GBX 170 ($2.14) in a research note on Tuesday, March 7th. Deutsche Bank AG reiterated a "buy" rating on shares of Ferrexpo Plc in a research note on Thursday, March 23rd. Finally, Liberum Capital lifted their price objective on shares of Ferrexpo Plc from GBX 26 ($0.33) to GBX 70 ($0.88) and gave the company a "sell" rating in a research note on Thursday, January 26th. Five equities research analysts have rated the stock with a sell rating, two have assigned a hold rating and two have issued a buy rating to the stock. The company presently has an average rating of "Hold" and an average target price of GBX 98.13 ($1.24).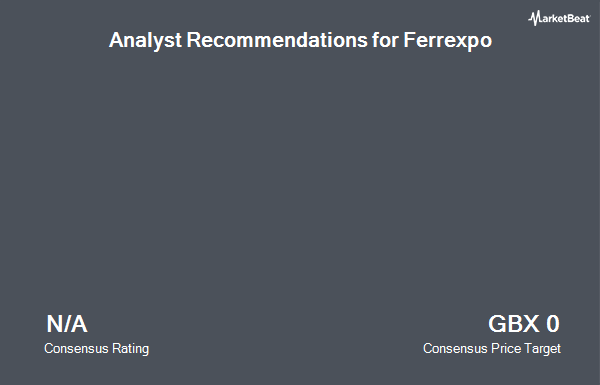 Shares of Ferrexpo Plc (LON:FXPO) opened at 149.70 on Friday. The company's 50 day moving average is GBX 160.53 and its 200-day moving average is GBX 137.98. Ferrexpo Plc has a 1-year low of GBX 28.26 and a 1-year high of GBX 178.70. The company's market capitalization is GBX 876.56 million.
The company also recently announced a dividend, which will be paid on Wednesday, May 31st. Shareholders of record on Thursday, May 4th will be paid a €0.03 ($0.04) dividend. This represents a yield of 1.54%. The ex-dividend date of this dividend is Thursday, May 4th.
ILLEGAL ACTIVITY WARNING: This article was posted by Financial Market News and is owned by of Financial Market News. If you are viewing this article on another site, it was illegally copied and reposted in violation of US & international trademark & copyright law. The correct version of this article can be viewed at http://www.financial-market-news.com/barclays-plc-raises-ferrexpo-plc-fxpo-price-target-to-gbx-130/1404944/.
In other Ferrexpo Plc news, insider Christopher Mawe sold 12,821 shares of the company's stock in a transaction that occurred on Wednesday, April 12th. The stock was sold at an average price of GBX 159 ($2.00), for a total value of £20,385.39 ($25,658.14).
Ferrexpo Plc Company Profile
Ferrexpo plc is an iron ore pellet producer. The Company produces, develops and markets its principal product, iron ore pellets, for sale to the metallurgical industry. The Company's operations are vertically integrated from iron ore mining through to iron ore concentrate, and pellet production and subsequent logistics.
Receive News & Ratings for Ferrexpo Plc Daily - Enter your email address below to receive a concise daily summary of the latest news and analysts' ratings for Ferrexpo Plc and related companies with MarketBeat.com's FREE daily email newsletter.