Gabelli Utility Trust (GUT) to Issue Monthly Dividend of $0.05 on December 16th
Gabelli Utility Trust (NYSE:GUT) announced a monthly dividend on Thursday, August 18th. Stockholders of record on Wednesday, December 7th will be paid a dividend of 0.05 per share by the investment management company on Friday, December 16th. This represents a $0.60 dividend on an annualized basis and a dividend yield of 9.60%. The ex-dividend date of this dividend is Monday, December 5th.
Shares of Gabelli Utility Trust (NYSE:GUT) opened at 6.25 on Wednesday. The stock's 50 day moving average price is $6.45 and its 200-day moving average price is $6.62. Gabelli Utility Trust has a 12 month low of $5.43 and a 12 month high of $7.04.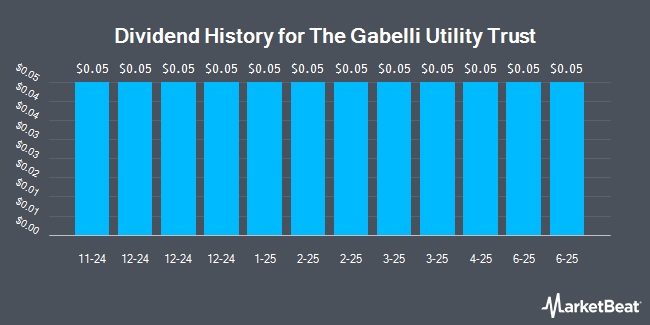 TRADEMARK VIOLATION NOTICE: This article was originally posted by Financial Market News and is owned by of Financial Market News. If you are accessing this article on another domain, it was illegally stolen and republished in violation of U.S. & international copyright & trademark laws. The correct version of this article can be viewed at http://www.financial-market-news.com/gabelli-utility-trust-gut-to-issue-monthly-dividend-of-0-05-on-december-16th/1209873/.
Gabelli Utility Trust Company Profile
The Gabelli Utility Trust (the Fund) is a diversified, closed-end management investment company. The Fund's primary objective is long term growth of capital and income. The Fund invests approximately 80% of its assets in common stocks and other securities of foreign and domestic companies involved in providing products, services or equipment for the generation or distribution of electricity, gas, and water, and telecommunications services or infrastructure operations (approximately 80% Policy), may be changed without shareholder approval.
Receive News & Ratings for Gabelli Utility Trust Daily - Enter your email address below to receive a concise daily summary of the latest news and analysts' ratings for Gabelli Utility Trust and related companies with MarketBeat.com's FREE daily email newsletter.