Spark Networks Inc (LOV) Director Sells $22,524.48 in Stock
Spark Networks Inc (NYSE:LOV) Director Michael J. Mcconnell sold 20,856 shares of the stock in a transaction that occurred on Friday, November 25th. The shares were sold at an average price of $1.08, for a total value of $22,524.48. Following the sale, the director now directly owns 166,338 shares of the company's stock, valued at approximately $179,645.04. The transaction was disclosed in a filing with the Securities & Exchange Commission, which is accessible through the SEC website.
Shares of Spark Networks Inc (NYSE:LOV) opened at 0.98 on Thursday. Spark Networks Inc has a 1-year low of $0.96 and a 1-year high of $4.14. The stock's market cap is $31.24 million. The stock's 50 day moving average price is $1.35 and its 200-day moving average price is $1.57.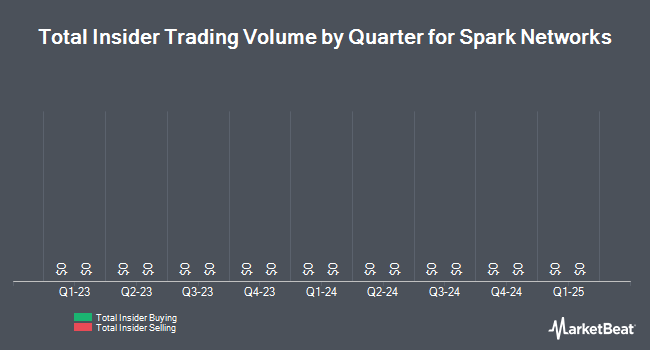 COPYRIGHT VIOLATION NOTICE: "Spark Networks Inc (LOV) Director Sells $22,524.48 in Stock" was originally posted by Financial Market News and is the sole property of of Financial Market News. If you are viewing this story on another domain, it was illegally copied and reposted in violation of U.S. and international trademark & copyright law. The original version of this story can be viewed at http://www.financial-market-news.com/spark-networks-inc-lov-director-sells-22524-48-in-stock/1212329/.
Spark Networks Company Profile
Spark Networks, Inc is engaged in creating brands and communities that help individuals form life-long relationships with others that share their interests and values. The Company operates through four segments, such as Jewish Networks, which consists of JDate, JDate.co.uk, JDate.fr, JDate.co.il, Cupid.co.il and JSwipe; Christian Networks, which consists of ChristianMingle, CrossPaths, ChristianMingle.co.uk, ChristianMingle.com.au, Believe.com, ChristianCards.net, DailyBibleVerse.com and Faith.com; Other Networks, which consists of Spark.com and related other general market Websites, as well as other properties, which primarily consists of sites focused towards various religious, ethnic, geographic and special interest groups, and Offline & Other Businesses segment, which consists of revenue generated from offline activities.
Receive News & Ratings for Spark Networks Inc Daily - Enter your email address below to receive a concise daily summary of the latest news and analysts' ratings for Spark Networks Inc and related companies with MarketBeat.com's FREE daily email newsletter.